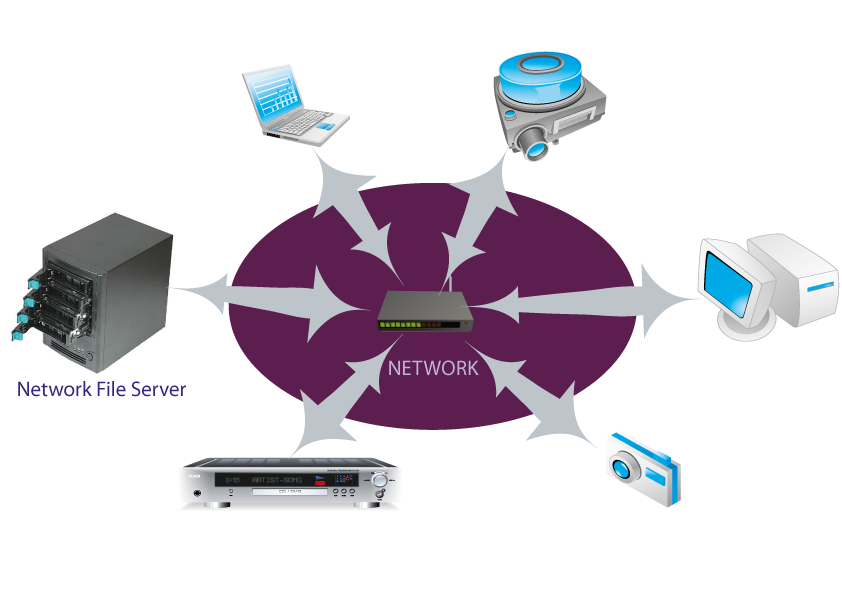 A Network File Server is a storage system that is accessible over the local network. It comprises of a dedicated computer that contains an array of storage disks connected to the local network. The array of disks are configured to backup each other, so in the case of a single disk failure the data is recovered from the surviving disks in the array. The file server acts a storage system that is visible and accessible by all devices on the network it is attached to.
Key Benefits
File sharing and centralized storage- No more duplicating copies of files on many devices. Just put a file on the network file server and share it between users for viewing and editing. Downloading pictures from the camera can now be saved in a network pictures folder so that it can be easily found and accessed. Shared documents can also be saved and accessed from any network connected device.

Media Streaming- Watch your home videos and listen to your music from any computer or network connected TV in your house. All you need to do is to store the media files on your network file server and your media files become accessible automatically. Also no need to worry about backup since the media files are now safe. What more do you need?

Automatic System Backup- The media file server is always attached to the local network and running backup jobs cannot be made easier. No need to use USB hard drives for individual computer backup anymore. All is needed is backup configuration tasks that automatically backup all of your files to the network file server. The file backup server is compatible with Windows, Mac and Linux.

External Access- Provide secure external internet access to your network file server for easy sharing. This is a nice feature for individuals wishing to share files with other family members without the need to create a website.
Service and Pricing
Our service includes assessing the customer storage needs and providing a custom made solution. The pricing depends on the system provided and the file server specification. We will provide estimates on a customer basis once the system requirements are defined and evaluated. Please do not hesitate to contact us for further inquiry.